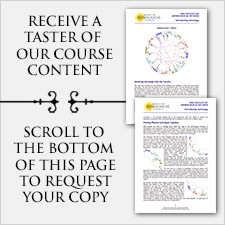 Studying with the Faculty via Distance Learning offers you the freedom to enjoy a flexible study schedule which will fit in perfectly with your own life situation. You can choose to study at home, at work, on the move, in fact anywhere that suits you. Getting started is simple – you can enrol at any time of the year, working at your own pace via email with your personal tutor, who will provide one-to-one feedback and guidance. Each Module comes with a six-month period of tuition, giving you plenty of time to work through the articles and exercises it contains.
While the number of exercises varies between Modules, you can expect to spend perhaps 4-5 hours per week working on them. Your tutor will usually send their feedback on your exercises within three to four working days, and certainly within two weeks, offering general and specific feedback, as well as personal insights and ideas for further reading or alternative approaches. In this way, you are fully supported and encouraged to gradually develop your astrological understanding.
When you enrol, you will be given access to the Faculty's Online Learning Environment (OLE) which stores all the course material and exercises for each module, and gives you access to the student forums, where you have the opportunity to communicate with other Faculty students from all over the world. The OLE also provides general information about the Faculty and keeps you up to date with the latest announcements.
The beauty of Distance Learning is that is allows you to fit study in around your other commitments and there is no requirement to commit to specific days and times. Yet should your circumstances change, you can also alternate between taking modules via Distance Learning and the London Classes (easily accessible from the UK and continental Europe) or by taking some modules at the Faculty's annual Summer School, held each year at a college of the University of Oxford.
Enrol for distance learning
To download the Distance Learning Conditions of Enrolment and find out how to enrol please visit the enrolment page. If you have any questions on Distance Learning with the Faculty or any problems making your enrolment please get in touch.
Some Testimonials from Distance Learning Students
Very good value - tutor gave excellent feedback and additional guidance to further my education - very prompt - very professional - has helped me feel much more confident in my abilities even though this is just the first module.
My tutor has been extremely encouraging and her astrological expertise and warmth of personality has been obvious throughout the entire course. I am looking forward to working with her on the second half of Module 8.
Thank you for the brilliant course! It was a foundation course but a professional course. Before my first exam, I feel nervous and worried, but cannot wait to study the next module!
My collaboration with my tutor was excellent. He always encouraged me, he was very polite, open-minded, willing to share his invaluable knowledge and always consistent.
I am particularly impressed by the high quality of the writing and presentation of the distance learning material.