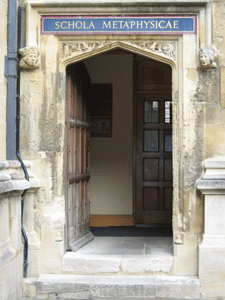 You are very welcome to study with us without taking any of the examinations. However, if you do wish to attain either your Certificate or Diploma, or both, you will need to take the plunge to formal assessment through our examination system.
There are three examinations in our system, the Certificate paper, the Intermediate paper, and the Advanced paper. Each exam is designed to correspond with the relevant level of study. After the foundation course (modules one to three) you can take your Certificate paper, and success in this exam, plus the credits gained for modules one to three means that you have then gained your Faculty Certificate. This is a significant achievement in its own right.
If you wish to continue to obtain your Diploma, then you will need to take your Intermediate paper after modules four to six (Diploma Level I) and your Advanced paper after modules seven to nine (Diploma Level II). Completion of all nine modules plus success in each exam means you will have achieved the coveted Faculty Diploma, and will be eligible to put the letters D.F. Astrol.S after your name (Diploma of the Faculty of Astrological Studies). All Diploma recipients are required to sign the Faculty's Code of Ethics. You will then join the ranks of many fine astrologers who have also obtained our coveted Diploma, those such as Liz Greene, Howard Sasportas, Melanie Reinhart, Clare Martin, Sue Tompkins, Julia Parker, Charles Harvey, Mike Harding and many more.
Each examination is completed in your own time at home. You have a maximum of two Exam seasons to complete your exam and the deadlines correspond to the Equinox dates each year. For example, if you apply for your exam in July 2021, you will be able to submit it for the September 2021 Equinox or the March 2022 Equinox. If you apply for your exam December 2021, you will be able to submit for the March 2022 Equinox or the September 2022 Equinox.
Examination results are released in line with the Solstices, with the results of the Spring season released around the Summer Solstice in June and the results of the Autumn season released just before the Winter Solstice in December.
Although exams can sometimes inspire fear and dread, they also have an important initiatory function. In conquering the fear of formal assessment and putting in a great deal of time and effort to your paper, you allow yourself the possibility of experiencing great achievement and the joy of receiving formal recognition for your astrological skills. In the language of astrology we might say that the examination process evokes the planet Saturn, who may be associated with fear and insecurity but also achievement, status, public recognition and the deep satisfaction that comes of a just reward for great effort.
You can enrol for your exam through the online booking centre or by printing and sending in the Exam form below. Please download and read carefully the Exam Rules and Regulations before applying for and submitting your Examination entry.
Notification of temporary measure introduced for the Advanced Diploma Examination
In respect of the Advanced Diploma Examination – Part 3. Live recorded session (15 marks).
Under normal circumstances, a candidate is required to hold a live, embodied consultation. However, considering the current global situation this instruction has been temporarily revised from Spring 2021 allowing for the consultation to be held online if required.
This temporary arrangement is in place for all Advanced Exam submissions received up to the Autumn Equinox 2022.
Online instructions and guidance will be included with the Advanced exam paper enrolment to be followed should online platforms be used.
Importantly, audio recording only of the online consultation is to be submitted with the written examination work.
Please contact Head of Exams, Mónica Teixeira, headofexams@astrology.org.uk if you have any questions regarding this temporary measure.
You may also wish to read the stories of some of our Certificate and Diploma holders, on the 'Our Students' page. These testimonials show the personal journeys behind studying with the Faculty and taking the plunge into formal assessment.
You can also download examples of each of the three examinations (see below) – the Certificate, Intermediate and Advanced papers.
You may also wish to consider taking one of our Interpretation Practice Modules, which are available at Foundation Level, Diploma Level I and Diploma Level II. These are designed to be taken after completing each level of study, if you wish to gain extra practice at chart interpretation after you have completed Module 3, Module 6 or Module 9. They are a useful way of practising your skills before you take the Certificate, Intermediate or Advanced Interpretation Exams.
Each Practice Module comes with 3 months tuition with a personal tutor and consists of a full chart interpretation at the appropriate level. You can download a copy of the Student Manual for these Practice Modules from the Module 3, Module 6 or Module 9 page of the Online Learning Environment, to see what is involved.
The Faculty Special Exam Awards
Excellence in the Faculty exams is recognized through our special exam awards. We have one award at Certificate and Diploma Intermediate levels respectively, and two at Diploma Advanced level as follows:
Lindsay Radermacher Award – for an exceptionally good Certificate Interpretation Exam.
Fiona Griffiths Award – for an exceptionally good Intermediate Interpretation Exam.
Margaret Hone Award – for an exceptionally good Advanced Interpretation Exam.
Melanie Reinhart Award – for an exceptionally good live consultation in the Advanced Interpretation Exam.
These special awards are noted on the Faculty's masterlists of Certificate and Diploma Holders besides the candidates' names. They all consist of several astrological books of the candidate's choice, aimed at making a further contribution to our students' continued progress and development as astrologers.
All the awards are presented every year in March, during the Faculty Open Day that takes place in central London. It is a wonderful day of celebration.
Sample Exam Papers
Other Downloads
Enrol Online
… or submit the Exam Form
Exam Credits – Expiry Date Reminder
Have you checked the expiry date of module credits?
Remember that module credits expire after 6 years unless you validate them by passing the relevant exam at that level. In other words, if you have obtained all Foundation Course module credits, you will need to pass the Certificate Interpretation Exam within six years of completing Module Three in order to validate these credits. The same system of validation applies to the intermediate and advanced levels.
If your module credits have already expired, you have a second chance.
If your module credits have already expired but no more than 2 years have elapsed since they did, you have not lost them. You have the opportunity to re-validate them and be entitled to take the exam. In order to do that you must take the Practice Module and apply for the exam immediately afterwards.
If you have questions about the validation of your credits please contact Mónica Teixeira, Head of Exams, at exams@astrology.org.uk.