The Faculty's London classes programme is held each academic year at a venue in Central London, which is easily accessible from most parts of the UK and continental Europe. Many students choose to study at live classes because it offers the opportunity to meet like-minded people and to learn from the experiences and examples of other students.
With all of our modules available as weekend seminars, you don't have to live in London to take advantage of live tuition. Each year there is a choice of two Foundation classes beginning in October (Monday evenings or Saturdays), and a full range of Diploma courses and seminars on offer, enabling you to complete the entire course, from beginner to advanced, in three years. In addition to the class tuition and the full support of your tutor, you will have access to written course material through the Faculty's Online Learning Environment, which summarises the work covered in class and allows you to consolidate your understanding of each subject as you progress.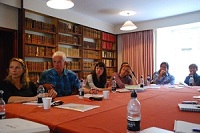 Even if you are not a registered Faculty student, you are still very welcome to enrol on any of the Diploma modules and seminars at any time. Some of the courses are available in the form of one- or two-day seminars and are an ideal way to learn a new technique or practice your chart interpretation without committing yourself to the Diploma. In addition, all the seminars are credit-bearing, enabling you to store credits towards a qualification if you decide at a later date that you wish to gain the Faculty's Diploma.
Our 2017-2018 programme of classes will commence in October 2017.
Please note that third Module 9 date has been changed from 23 June to 16 June.
Prices can be found on the enrolment form and on the Foundation page, Diploma Level 1 page and the Diploma Level 2 page.  The enrolment form can be used to enrol OR you can enrol online, through our online booking centre (use the 'payment portal' link at the top right hand side of this page.)
NEW! Fast Track London Classes
Foundation level London Classes will be available in a Fast Track programme from January – July 2018. The classes run on a Saturday from 10am-5pm and will be held in Gordon Square which is close to Euston, Warren Street and King's Cross stations
The dates are:
Module 1: 13 & 27 January, 10 & 24 February
Module 2: 10 & 17 March, 28 April, 12 May
Module 3: 2, 16 & 30 June and 7 July
Enrol for London Classes
Testimonials from Class Students
I have thoroughly enjoyed the module and it more than fulfilled my expectations. The tuition was excellent – insightful, encouraging and knowledgeable – an inspiration to the class. 
The tutor was supportive, inspiring, encouraging and very clear in her teaching. The course was very well structured and supported through the online learning. This has been very important for me to complete a step by step process. 
Looking at the cycles of transits was a revelation - I have worked with transits more than anything else but hadn't gone through the cycles of each planet so methodically before and learned how important it is to do that! I liked the way we had the chance to do personal presentations on cycles, as we could hear from different people how they were working, and the tutors were really supportive and encouraging. 
I was very happy with the tuition. Topics were explained clearly and in depth, and I could follow the classes easily even though I was completely unfamiliar with the subject. I really enjoyed it and would like to thank the tutors for their help and lucid teaching. 
Venues
We will be using three venues during the academic year 2017-2018.  All are easily accessible inWC1, a few minutes walk from King's Cross and Euston stations.
Gordon Square
Hamilton House
Tavistock Place