Faculty Open Day 2012
Faculty Day kicked off with 'The Forum' with presentations from tutors and students on 'What Planet Rules Astrology?' Martin Lipson, distance learning tutor for the Faculty, was first up to speak. He believed that Astrology was symbolised by all of the planets, from the Sun through to Pluto. He did not feel one planet such as 'Uranus' encompassed all of the beauty of astrology. Following Martin, diploma level student Ira Kiourti agreed that a single planet could not rule Astrology. However, she felt that Chiron in particular can be associated with Astrology. She reflected on Chiron in mythology – half centaur and half God, stuck between both worlds. She spoke about how Chiron is depicted as the outsider in mythology just as Astrologers often are!
Next up, we heard from Distance Learning Tutor Dragana van de Moortel-Ilic; she shared her thoughts on Pluto as a ruler of Astrology. She told the story of Inanna's descent to the underworld in Sumerian mythology and compared this to Astrologers who take our clients into the underworld (unconscious) when we do a reading. The Forum concluded with diploma level student David Knowles, who presented an interesting comical commentary on why all the planets were associated with Astrology. A thought provoking morning!
After our minds were fed it was now time for our bodies. At lunchtime our students mingled with fellow peers and tutors, browsed the bookstalls and solar fire demonstrations. There was lots of Astro babbling going on and it was a real joy for some long distance students to finally meet their tutors!
Our afternoon session began with our President Carole Taylor, who presented Dane Rudhyar's views on Neptune as a gift of inclusiveness and spiritual connection as an image of astrology's guiding principle. She contemplated each individual planet as a ruler of Astrology and shared with us her transits and personal experience of when she first became involved with Astrology. It certainly gave us food for thought!
It was now time for the much anticipated Award Ceremony, introduced by our Head of Exams Glòria Roca and presented by our Guest Speaker Lindsay Radermacher. The Award Ceremony is a very special moment for all at The Faculty and we were delighted to present Certificates and Diplomas' to our students. One of our New Diploma Holders; Meral Erduran, commented that she had won the Lindsay Radermacher award for her certificate and felt extremely honored to receive her diploma from Lindsay.
Faculty Day concluded with a presentation from our Guest Speaker, former President Lindsay Radermacher. She gave a wonderful talk on 'Life after the Faculty.' She shared with us her personal experience of studying and working with the Faculty and some of her life changing events that had steered the course of her path in Astrology. It was a truly inspirational talk that left everyone with much to reflect on.
After a successful day the Faculty team, students and speakers celebrated with drinks in the pub!
2012 Presentations
'What is the ruler of astrology' by David Knowles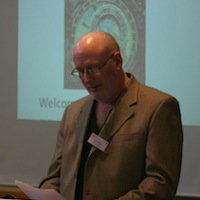 'What Planet rules Astrology – A Family Responsibility' by Martin Lipson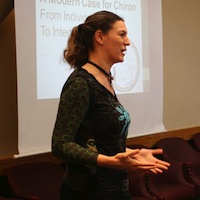 'From Individuation to Integration – The Modern Case for Chiron' by Ira Kiourti